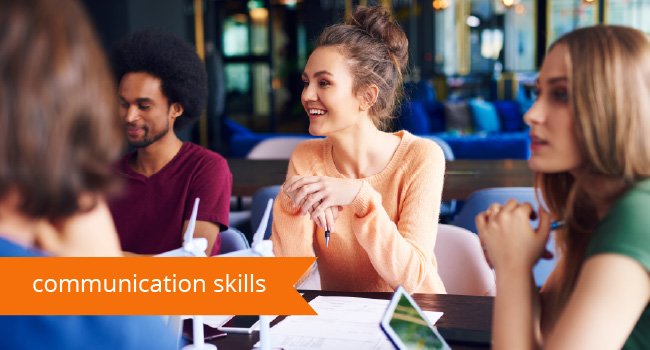 Delivery Style
This course is only available for in-company bookings, where we deliver training to a group of participants within one organisation.
However, our QQI People Management Course is an excellent alternative for anyone who wants to attend training as an individual. It includes a module on communication skills.
Download Brochure
Get a Quote
3 Benefits of this Communication Skills Course
Consistent Communication Skills Across Your Team

By running an in-company Communication Skills Course, you'll ensure that everyone on your team receives the same knowledge and skill-set.

This makes for a culture of clear, consistent communication throughout your business.

Ability to Handle Conflict and Tricky Conversations

Even the smoothest-running team or business will have to address conflict and difficult conversations from time to time.

We devote an entire module during this course to handling difficult situations.

Focus on Your Business Needs

Tailoring and flexibility are two major benefits of in-company training. We work this course around your goals and requirements.

You choose the training dates that suit your schedule. We will customise the course content to address the kind of communication challenges and situations your team encounters on a regular basis.
Course Overview
What is Covered?
About In-Company
FAQ
Download your Free Communication Skills Course brochure
Download our PDF brochure to learn more about this Communication Skills Course. Our brochure includes:
Detailed course content outline
More information on how we deliver this course
Ways you can get started planning a workshop for your organisation
Download Brochure