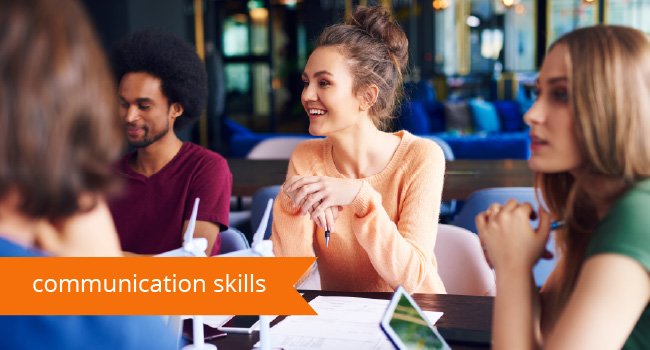 Delivery Style
This Communication Skills Course is available for both individuals (public courses) and teams (in-company bookings).
Our public course has dates available throughout the year. It runs online as a live virtual class delivered by our expert trainers.
You can learn more about our in-company format and delivery style in the "For Teams" tab below.
Download Brochure
Course Schedule
3 Benefits of this Communication Skills Course
Versatile Communication Skills Fast

During this 1-day course, you'll gain communication skills that can be used in any situation.

We teach best-practice communication techniques that you can adapt to support you throughout your career.

Assertiveness and Ability to Handle Conflict

This element of communication is one that doesn't come naturally to most. It is, however, the key to a fully-rounded set of communication skills.

We devote two focused modules during this workshop to assertiveness and handling conflict and difficult situations.

Gain Influencing Skills

Not always covered during Communication Skills Courses, influencing skills can have a very positive impact on the outcomes of your interactions.

Influencing skills enhance your ability to communicate well and champion the effectiveness of your message.
Course Overview
What is Covered?
For Teams
FAQ
Download your Free Communication Skills Course brochure
Download our PDF brochure to learn more about this Communication Skills Course. Our brochure includes:
Detailed course content outline
More information on how we deliver this course
Ways you can get started planning a workshop for your organisation
Download Brochure