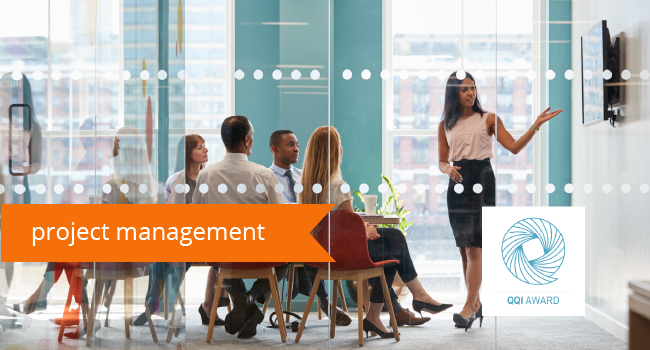 Who Attends This Course?
This QQI Project Management Course is perfect for anyone who needs to gain project management skills and understanding fast.
No experience with project management is needed. It is suited to participants from all areas of business and industry.
Download Brochure
Reserve a Place
3 Benefits of this QQI Project Management Course
Practical Project Management Skills You Can Use Immediately

The primary objective of this training is to equip you with real-world project management skills you can utilise instantly within your working environment.

We cover the full lifecycle of a project from planning to closure. (See tab "What is Covered?" below)

Learn a Trusted, Widely-Applied Project Management Framework

The skills and knowledge you gain during this course are based on the Project Management Institute (PMI)® framework.

This framework is widely applied in organisations across the globe.

Respected QQI Certification

Completing this course and its associated assessment work successfully leads to a QQI Level 6 Certification in Project Management.

In addition, you will apply your assessment work to a project (real or hypothetical) to build confidence in your project management capability.
Course Overview
What is Covered?
For Teams
Pair With
Download your Free QQI Project Management Course brochure
Download our PDF brochure to learn more about this QQI Project Management Course. Our brochure includes:
Detailed course content outline
Key benefits & objectives
More information about how we deliver this course
We'll also send you our full course schedule and check in to answer any questions you have
Download Brochure