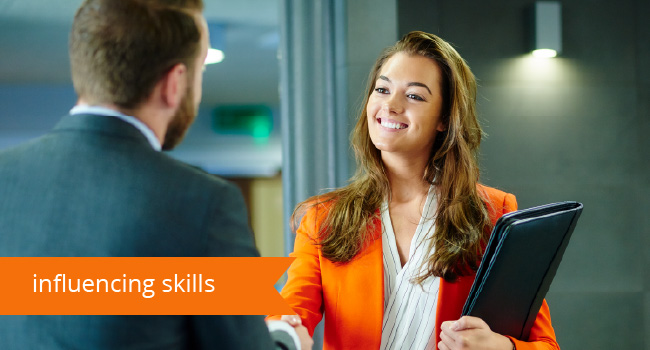 Who Attends?
Anyone whose role incorporates client or stakeholder interaction will gain much from this Influencing Skills Course.
Examples of previous attendees include: executive and leadership teams, sales teams, and customer experience teams.
Download Brochure
Get a Quote
3 Benefits of this Influencing Skills Course
Gain Strong Interpersonal Skills

Influencing is all about interpersonal skills. It's about being able to communicate well and building rapport.

The goal of this Influencing Skills Course is for participants to take away the crucial interpersonal skills needed to be able to make a positive personal impact within their working life.

Learn to Tackle Difficult Situations With Ease

No matter how strong your interpersonal skills are, tricky situations and negative feedback will occur at some point.

We cover handling challenging situations during this workshop, so that participants will be able to address and diffuse these moments as they arise.

Learning Relevant to Your Working Environment

As this is an in-company workshop, we can tailor the course content to ensure that it's relevant to the work your team does, and the skills they need specific to their roles.

This kind of approach makes learning more impactful in the long run.
Course Overview
How is this Influencing Skills Course delivered?
This is an in-company course, meaning that we will deliver training exclusively to your team on dates you choose.
Get a Brochure
Here are some of the key characteristics and benefits of how in-company training works:
Date & Format Flexibility

Choose training dates that work around your team's availability.

We can deliver training either online or in person at your location.

Online training takes place via our live virtual classroom platform. This is real-time, tutor led training that mirrors a classroom experience. Perfect for remote-working teams.

Customisation

We will consult with you while planning training to identify any particular goals or challenges you would like to address during this Influencing Skills Course.

We will customise the course's content to incorporate elements relevant to your business and the type of work your team does from day to day.

Consistency

Through training your entire team at once, you create a consistent culture of strong interpersonal skills.

Options for Progression

Often, clients will choose to continue training their team with add-ons following this workshop.

Popular choices include Time Management, Consultative Selling Skills and Resilience in the Workplace.
Learn more
Talk to us about how this Influencing Skills Workshop could benefit your organisation.
You can reach our team by phone (Freephone 1800 910 810 or Dublin 01 861 0700) or by using the "Get a Quote" button below to book your consultation.
Download Brochure
Get a Quote
What is Covered?
What is covered during this Influencing Skills Course?
Here is a summary of the content we cover on this Influencing Skills Workshop. You can read a full, detailed outline by downloading our PDF brochure.
Get a Brochure
Module 1: Habits of Effective People

Begin with self-evaluation. Participants learn what motivates them and what limits them.

Module 2: Influencing Skills

Focused on the art of persuasion. How and when influencing skills should be used.

Module 3: Communication Skills

Cover the principles of good communication, including listening and questioning skills.

Module 4: Assertiveness

Finding the balance between assertiveness and aggressiveness. Learning to say "no" in a positive way.

Module 5: Handling Challenging Situations

Essential skills needed to handle challenging situations as they arise.
Tailoring for Your Team
We have found that this order and format is the most effective when delivering this Influencing Skills Course.
However, we will take your specific requirements into account when tailoring the course for delivery to your team.
Learn More
You can download our brochure instantly to get a full overview of how this course is delivered.
Talk to us directly by phone (Freephone 1800 910 810 or Dublin 01 861 0700) or by using the "Ask a Question" button below.
Download Brochure
Ask a Question
FAQ
Frequently Asked Questions: Influencing Skills Course
Who attends this Influencing Skills Course?

We find that this workshop benefits anyone whose role includes a lot of interaction with other business stakeholders – clients, suppliers, investors, colleagues, etc.

It's hugely popular with sales teams, particularly those in consultative selling roles.

Leadership teams find this workshop a real asset from a management perspective.

Customer experience teams learn to achieve even more positive outcomes from their interactions with customers.

How many participants can attend the course?

Due to the practical nature of this course, we recommend no more than 14 participants on any one group.

Do participants need experience?

There are no eligibility requirements for this workshop. It is suited to anyone who interacts with others in their role.

How long is this course?

This is a 2-day workshop, with each day running from 9.30am – 5.00pm.

Some clients opt to schedule a third, follow-on date several months after the initial workshop.

Who delivers this course?

Our tutors are certified training professionals with rich, diverse backgrounds. They bring many years of interpersonal expertise and skill to each programme.

Can individuals attend this course?

No; this course is only available for in-company or group bookings.

If you are interested in attending a public course that covers communication skills and the ability to handle difficult situations, our Management Skills Course could be a good fit.
Any Other Questions?
If we haven't answered your question here, we would love to hear from you.
Use the "Ask a Question" button below, or call us at Freephone 1800 910 810 to ask your question.
Download Brochure
Ask a Question
Download your Free Influencing Skills Course brochure
Download our PDF brochure to learn more about this Influencing Skills Course. Our brochure includes:
Detailed course content outline
More information about how we deliver this course
Ways you can begin planning an Influencing Skills Course for your business
Download Brochure