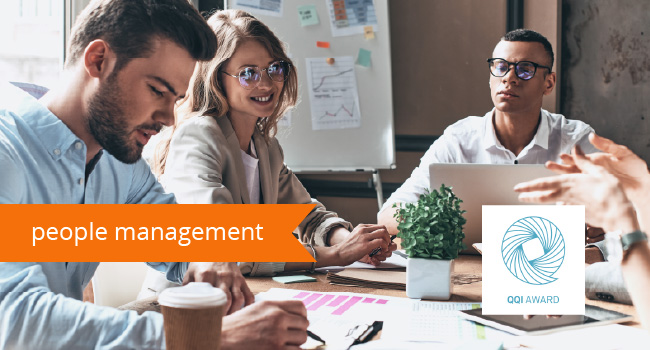 About This Certification
This course leads to a QQI Level 6 minor award in Managing People. QQI certifications are well-known and respected, both at home and abroad.
The award code is 6N3945 and it awards 15 credits towards a major award on the National Framework of Qualifications (NFQ).
Download Brochure
Reserve a Place
3 Benefits of this QQI People Management Course
Equip Yourself with a Valuable Management Toolkit

Over 3 days, we cover essential management knowledge and skills such as motivation, communication, organisation, conflict resolution, coaching your team, and relevant legislation.

Gain Advice & Fresh Ideas

Our QQI People Management Course is delivered by expert management trainers who bring the benefit of their experience to each session.

The group discussions and exercises during training provide a beneficial platform for sharing ideas and different perspectives.

Achieve a Respected Management Certification

Through completing this course and its assessment work successfully, you will achieve a respected QQI Level 6 Certificate in Managing People.
Delivery Styles
Our People Management Course is available in both public (open) and in-company (in-house) styles.
Public courses are open for anyone to attend and run every month throughout the year. Each course runs online as live virtual classroom training, delivered in real-time by our tutors.
In-company courses are delivered to participants from a single organisation on dates chosen by the company. (read more in the "For Teams" tab below).
Course Overview
What is Covered?
For Teams
Pair With
Download your Free QQI People Management Course brochure
Download our PDF brochure to learn more about this QQI People Management Course. Our brochure includes:
Detailed course content outline
Key benefits & objectives
More information about how we deliver this course
QQI certification details
We'll also send you our full course schedule and check in to answer any questions you have.
Download Brochure