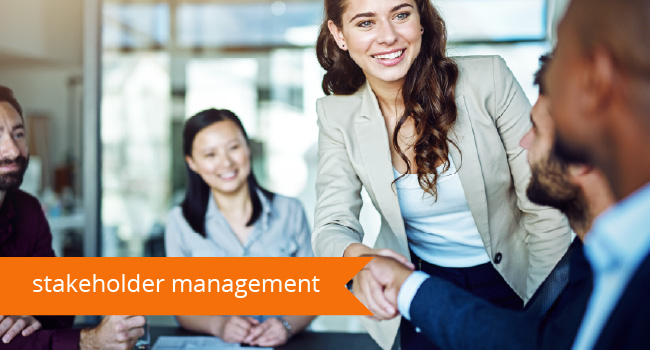 Why Stakeholder Management?
Stakeholders can be anyone with an interest in your business, product, or project. This incorporates clients, suppliers, and employees among any other relevant parties.
Stakeholder management is the practice of creating great working relationships through clear communication and both setting and managing expectations on a continuous basis.
Download Brochure
Get a Quote
3 Benefits of this Stakeholder Management Course?
Actionable Stakeholder Management Skills

The primary objective of this training is to equip participants with practical stakeholder management skills and strategies they can implement immediately following training.

Stakeholder Management Relevant to Your Business

We will customise the course content to focus on the kinds of stakeholders and situations your team encounters.

A Flexible and Expandable Delivery Style

You choose the delivery dates and format for this Stakeholder Management Course (read more on this in the "Course Overview" tab below).

In addition, you'll have the option to expand this training into a series of business excellence workshops for your management team. Popular options here include an add on of Risk Management, Resilience in the Workplace, or Leadership Skills.
Course Overview
What is Covered?
FAQ
For Individuals
Download your Free Stakeholder Management Course brochure
Download our PDF brochure to learn more about this Stakeholder Management Course. Our brochure includes:
Detailed course outline
Training objectives
More about how we deliver this course
Download Brochure