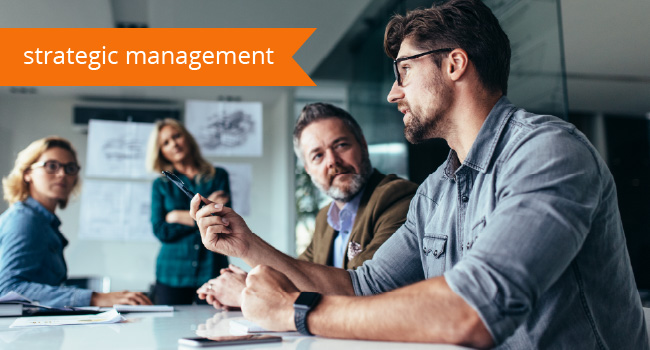 Who Attends This Course?
This Strategic Management Course is most popular with business leadership teams of all sizes and backgrounds.
It's also an excellent tool for project team leaders and department leadership teams for forward-thinking plans.
If you're not sure who would benefit from this most in your organisation, ask us. We'll be happy to help.
Download Brochure
Get a Quote
3 Benefits of this Strategic Management for Growth Workshop
Develop a Structured, Strategic Plan for Your Business

The primary objective for this workshop is to support your team in beginning to create a solid, actionable plan for your business growth.

Create Time for Cohesive Planning

Scheduling time for your leadership team to work together and focus on forward thinking for your organisation is an invaluable tool for building a stronger, more cohesive leadership approach.

Gain Insight and Guidance from Experts

This workshop is delivered by our most experienced leadership trainers.

With their backgrounds in strategic leadership and process improvement, they bring a wealth of knowledge and insight to the workshop.
Course Overview
How is this Strategic Management Course delivered?
This is an in-company programme, meaning it is delivered to participants from a single organisation at a time.
We deliver training to your team in a format you choose and on dates you select.
Get a Quote
Here are some of the reasons that in-company training is a wise choice for any new or expanding business:
Tailored & Focused

While incorporating tried-and-tested modules, this workshop is a very tailored experience for your team.

It is entirely focused on what your business needs are right now, addressing any challenges – either present or predicted – and helping your leadership team to create a roadmap for your company's future.

Flexible

We understand that executive teams are extremely busy. We will work around your team's schedule to find training dates that suit the quieter times in your business.

We can deliver training in-person at your premises or online via our live virtual classroom platform.

Live virtual training mirrors an in-person experience and is hugely beneficial for teams working remotely.

Opportunity for Expansion

Clients usually choose to add a follow-on day several months following the initial workshop.

This helps the team to remain focused on growth and avoid being overly consumed by the day-to-day running of the business.

Many of our current clients have made regular Strategic Management for Growth days an ongoing part of their business development culture.
Ask us About Strategic Management for Growth
To learn more about how this Strategic Management Course can work in your organisation, get in touch with our experienced consultants.
You can call us directly (Freephone 1800 910 810 or Dublin 01 861 0700) or use the "Get a Quote" button below.
Download Brochure
Get a Quote
What is Covered?
What is covered during this Strategic Management Course?
This workshop is very much driven by the needs of your organisation and leadership team. However, to provide a trusted structure the following modules are always in play:
Get a Brochure
Module 1: Busines Planning

This initial module covers a lot of ground including: organisational structures and cultures, analysis of your organisation's current state, and setting strategic objectives.

Module 2: Developing and Monitoring Performance Metrics

Flowing from the strategic objectives and work covered in module 1, this module facilitates the creation of KPIs (key performance indicators) which will be valuable metrics in your reporting.

Module 3: Leading Change

The third module focuses on the leadership aspects of leading change and growth in your organisation.
Learn more about this workshop
Download our PDF brochure for more detail on suggested module content.
You can also contact our team directly via phone (Freephone 1800 910 810 or Dublin 01 861 0700) or online using the "Get a Quote" button below to learn more.
Download Brochure
Get a Quote
FAQ
Frequently Asked Questions: Strategic Management Course
Who Attends this Strategic Management Course?

The most frequent participants in this workshop are the business executive leadership team.

However, we also offer this course for project leadership and department management teams.

Is it suitable for smaller businesses and start-ups?

Yes, absolutely! While we frequently run this workshop in larger, well-established corporations, it is also hugely beneficial for small to medium businesses and new companies.

In fact, taking time to run this Strategic Management Course is one of the most beneficial things you can do in the early years of your business.

How many participants can attend?

This workshop works best with a smaller group of participants (anywhere between 3 and 8 participants).

It can also be adapted to suit larger leadership teams of 10 – 14 participants.

Is this Strategic Management Course available for individuals to attend?

As this is such a bespoke style of workshop, it is not available as a public course.

If you would like to gain key management skills and insights on a public course, our QQI People Management Course is an excellent place to begin.
Download Brochure
Get a Quote
Download your Free Strategic Management Course brochure
Download our PDF brochure to learn more about this Strategic Management Course. Our brochure includes
Full course content outline
More information on how we deliver this workshop
Ways you can get started on planning a Strategic Management Course in your organisation
Download Brochure