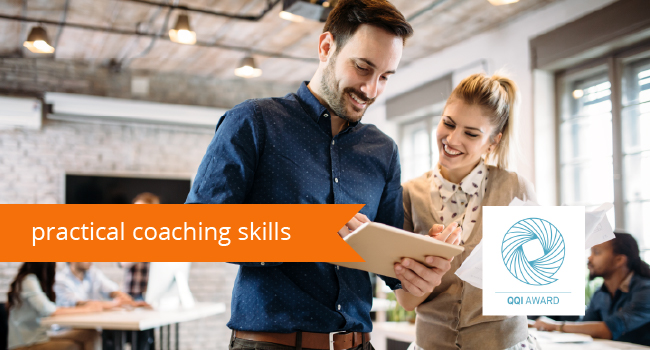 Who Attends?
We recommend this course for anyone who leads or manages others at any level. This includes supervisors, HR personnel, team leaders, project managers, and executive level leadership.
The skills you'll gain during this course are invaluable for connecting with and leading your staff to exceptional performance.
Download Brochure
Reserve a Place
3 Benefits of this Management Coaching Course
Understanding How to Coach Others

The primary objective of this course is to provide you with an understanding of techniques and skills you can use to coach members of your team effectively.

Confidence Through Practical Learning

This is a very interactive course, with plenty of opportunities for discussions, exercises, and practice coaching sessions.

This way of learning supports you in developing your coaching style and confidence in your own abilities.

Achieve a QQI Certification

Through completing this course and its assessments successfully, you will achieve a QQI Level 6 certificate in Coaching Models of Practice.

You can learn more about this certification in the "Course Overview" tab below, or by downloading our PDF brochure.
Course Overview
What is Covered?
For Teams
Pair With
Download your Free Management Coaching Course brochure
Download our PDF brochure to learn more about this Management Coaching Course. Our brochure includes:
Detailed course content outline
Key benefits & objectives
More information about how we deliver this course
QQI certification details
We'll also send you our full course schedule and check in to answer any questions you have.
Download Brochure