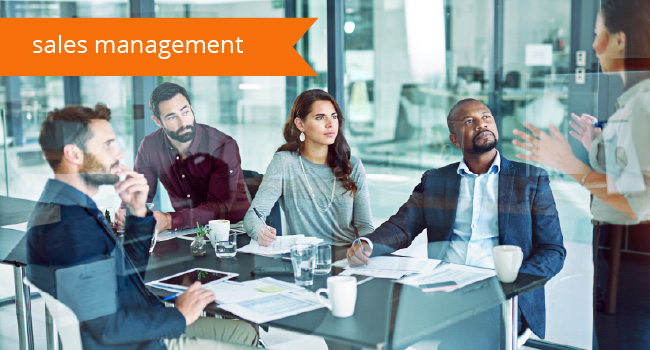 Course Delivery Style
This Sales Management Course is a very practical workshop, aimed at providing managers with both the skill and confidence to lead sales teams successfully.
The practical learning incorporates group discussions and exercises in addition to tutor presentation.
Download Brochure
Get a Quote
3 Benefits of this Sales Management Course
Achieve Management Skills Focused on Sales

Specific sales management skills support leaders in truly achieving the best from sales teams.

Although general good management practices are effective for sales teams, there are certain elements of focused sales management that can make the difference between great results and exceptional results.

Practical Learning = Confidence to Implement

Our approach to this workshop is very practical.

This helps to cement the learning and build confidence in each participant to put their new skills into action.

Advice and Guidance from Sales and Management Experts

Our tutors are certified professional trainers who bring years of sales and sales management experience to each workshop.

They will share tried-and-trusted techniques with participants and provide guidance on specific challenges within your organisation.
Course Overview
How is this Sales Management Course delivered?
This is an in-company programme, meaning that we will deliver training to a group of participants solely from your company on dates you choose.
Get a Brochure
Delivery Method

Choose from in-person delivery at your premises, or online via our live virtual classroom platform.

Live virtual classroom training is our most popular format. It mirrors an in-person experience while being ideal for teams working remotely or in different locations.

Group Size

To achieve optimum benefit, a maximum of 14 participants per group is advised.

This supports the practical, interactive nature of the workshop.

Who Benefits?

We recommend this Sales Management Course for anyone involved in the leadership of your sales teams.

Executive leaders, supervisors, and team leaders will all benefit from understanding what motivates sales staff and how to nurture a highly engaged sales team.

Customisation

When delivering this workshop in your organisation, we will tailor the content to focus on the kind of sales teams your managers lead.
Learn More
You can learn more about how this Sales Management Course will work in your organisation by getting in touch with us.
Call us (Freephone 1800 910 810 / Dublin 01 861 0700) or use the "Get a Quote" button below to get started on planning your workshop.
Download Brochure
Get a Quote
What is Covered?
What is covered during this Sales Management Course?
This 2-day workshop is divided into two clearly-defined modules. You can view a high-level summary of each module below.
For full details, download our Sales Management Course brochure.
Get a Brochure
Module 1: The Role of a Sales Team Leader

Day 1 of this workshop revolves around understanding the sales management role.

This incorporates motivational techniques, lead distribution, working towards targets, and maintaining focus.

Module 2: Holding Meetings & Assessing Performances

On day 2, we will look at two challenging aspects of a sales manager's role: meetings and performance management.

Skills covered include: tips and guidelines for successful meetings, coaching your sales team, and providing effective feedback.

Customisation: Making Training Relevant

When planning your sales management course, we will tailor the course content to make it most relevant to your team.

We can incorporate any challenges you are facing, reference the kind of work you do, and work towards goals you identify.
Learn More
Download our PDF brochure instantly to read more about how we deliver this Sales Management Course.
You can also use the "Get a Quote" button below to request a custom quotation for your organisation.
Download Brochure
Get a Quote
Public Courses
Achieving Similar Skills on a Public Training Course
Although this Sales Management Course is only available for in-company bookings, we do offer an alternative for those who would like to attend a public (open) course.
Our most popular management course, QQI People Management has dates available every month.
It runs online as a live virtual training course, delivered by management experts.
Although not focused on management skills specific to sales teams, it does cover many of the essential toolkits you'll need, such as:
motivation and team building
organisation and delegation
strong communication skills
managing performance
coaching your team
In addition, through completing this course and its assessment work, you'll achieve a QQI People Management certification.
If you're only interested in gaining the skills without certification, you can attend a shorter, 2-day version (Management Skills) that covers much of the same content.
Get Advice
If you would like guidance on which course is the best option for your management training, we're here to help.
You can reach our team by calling Freephone 1800 910 810 or Dublin 01 861 0700. Alternatively, use the "Ask a Question" button below to send us your query online.
Download Brochure
Ask a Question
Download your Free Sales Management Course brochure
Download our PDF brochure to learn more about this Sales Management Course. Our brochure includes:
Full course content outline
More information about how we deliver this course
Ways you can begin planning your Sales Management Course
Download Brochure