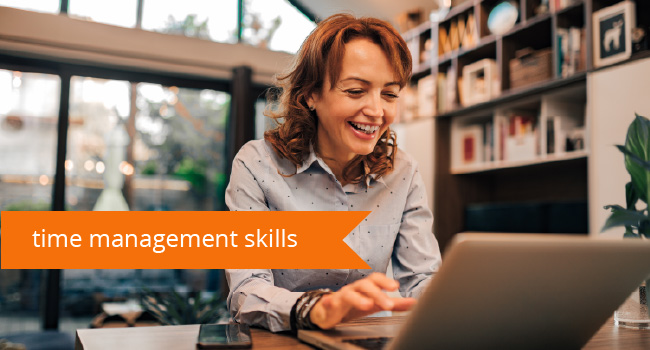 Delivery Style
This Time Management Course is available exclusively for in-company (also called "in-house" and "on-site) training.
This style of training means that we deliver training on dates you choose, to participants from your organisation only.
You can choose the delivery style. Our most popular format is live virtual classroom training (online), but we can also deliver this workshop in-person at your location.
Download Brochure
Get a Quote
3 Benefits of this Time Management Course
Improving how we manage our time is important to everyone, but here are 3 specific time management capabilities participants will take away from this Time Management Course:
Develop a Practical Time Management "Toolkit"

Our goal is to equip each participant with a strong understanding of how to take control of their time.

During this workshop, we cover several different tools that will help your team stay in control, even on the busiest days.

Create Action Plans for Your Day-to-Day Work

We round off this workshop with an action planning session – real strategies for making time management a reality in your team's day-to-day work.

Learn how to Delegate and Prioritise

These two areas may be the most important to master in terms of making the best use of time.

We take plenty of time to provide participants with understanding and know-how of both delegation and task prioritisation.
Course Overview
What is Covered?
FAQ
For Individuals
Download your Free Time Management Course brochure
Download our PDF brochure to learn more about this Time Management Course. Our brochure includes:
Full course content outline
More information about how we deliver this course
Ways you can get started
Download Brochure